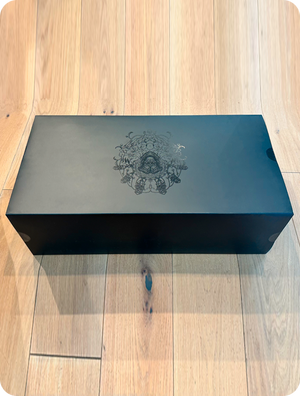 Gambler's Chest Expansion


The most ambitious use of the word expansion, the Gambler's Chest is many expansions in one. Change the rules!

Hunt and fight new monsters.




Play as a variant strain of survivors with new ways to grow and power to chase.




Change the rules!




Increase the danger of the hunt with

Encounter Monsters.


Add new difficulty with

Scouts.


Find new ways to craft gear with

Seed Patterns.


Meet

 visitors

in

 your settlement with

Wanderers

, their stories intertwine with yours.



Create new Characters with enduring appeal.
Add your favorite components to any game or tackle them all in a brand new campaign story, People of the Dream Keeper.

Gambler's Chest Contents:
Monsters

Atnas the Child-Eater




The Gambler




Godhand




Crimson Crocodile




Smog Singers




Bone Eaters (Encounter Monsters)




The King



Armor Kits
Crimson Crocodile Armor (4 miniatures)




Smog Singer Armor (4 miniatures)




Death King Armor (4 miniatures)



Narrative Sculptures
White Fang




Last Axeman Standing




Scouts of Death (2 Models, Male + Female)




Murderer




Bowmaster of Deadrock




Bloody Sword of Deadrock




Dark Eye




Romantic Adventurer




Screaming Hoarder




Cockroach Queen




Beast Hunter Armor




Mad & Mighty Striker




Bone Eater




Bright Knives




Father & Son (2 Models)




Cursed Spear




Sprinter Armor




Honorable Berserker




Romantic Leyline Walker




Axerman Family (3 Models)




Clever Strategist




Popular Guy




Imitation Butcher Armor




Herb Gatherer




Dead Survivor




Tough Guy




Magma Masochist




Shadowstalker




Champion of the Goblin



Promotional Miniatures
Nightmare Adam




Anna, Gourmet Hunter

Sci-Fi Aya
Neko Twilight Knight
New Rules
Philosophy System




Scout System




Pattern & Seed Pattern System




Encounter System




Wanderer System




Character System
New Campaign
30 Lantern Year "People of the Dreamkeeper" Campaign