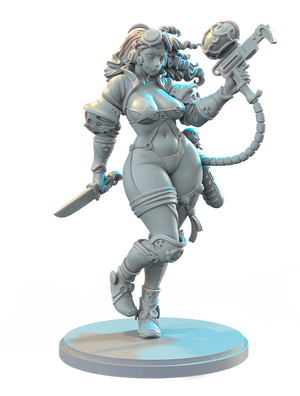 Sci-fi Lucy Variant- Painters Scale
Limit 1 per customer


A new edition of the Sci-fi Lucy, this variant is an alternate costume for Sci-fi Lucy. Released at our painters scale, perfect for hobbyists.
When she arrived in the GGHCORP mines, Lucy found her company-provided blaster had no effect on the twisted creatures that lived in the mines. Relying on her stealth and daring she scavenged the glowing ore while avoiding the vicious enemies within.
Art: Lokman Lam
Sculpture: Team Death
Sci-fi Lucy Variant - Painters Scale is packaged in a hand-stamped kraft box, and includes:
1 x Sci-fi Lucy Variant photoresin miniature

1 x Hard plastic Kingdom Death 50mm round insert and base

Large Matte Art Print
Price does not include VAT or local taxes for regions outside of the United States. For international customers, please note that we are not responsible for any import duties, handling/processing fees from parcel carriers, or customs charges. Any such fees incurred to receive your package are not covered by us. Please consult your country's customs policy for more information.