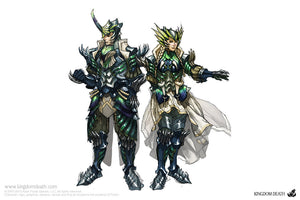 Green Knight Armor Expansion 1.6
Even the most dedicated and fortunate survivors will struggle to don the Green Knight armor by completing these insane recipes!
This expansion is designed to be added to the Kingdom Death: Monster core game. It includes:
The Green Knight Armor Kit Expansion includes:
Green Knight Armor Kit (makes 2 

f

igures)

1x Green Knight Armor Set card

7x Gear cards




Price does not include VAT or local taxes for regions outside of the United States. For international customers, please note that we are not responsible for any import duties, handling/processing fees from parcel carriers, or customs charges. Any such fees incurred to receive your package are not covered by us. Please consult your country's customs policy for more information.