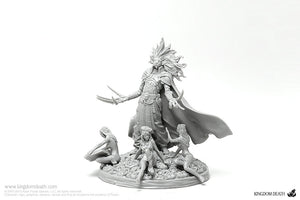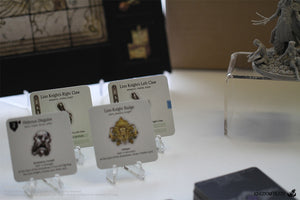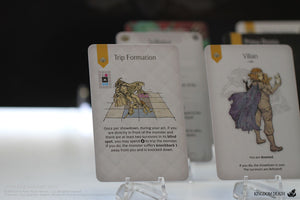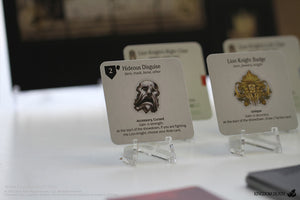 Lion Knight Expansion 1.6
Incapable of emotion, the Lion Knight seeks to understand the world around it through its bizarre, self-serving stage productions. Between performances, it is a distant husk, unaffected by the normal world. When the time comes, "actors" are gathered by the Lion Knight's masked retinue to join it onstage. There, it hopes to capture and vicariously experience their excitement, fears, and ultimately, their deaths. However, it remains up to the survivors to decide whether or not they stick to their scripts.
This expansion is designed to be added to the Kingdom Death: Monster core game. It contains:
Lion Knight sprues (includes survivor gear and the Lion Knight Monster)

4x Role Survivors

6x Gear cards

26x Lion Knight AI cards

20x Lion Knight HL cards

4x Special Terrain cards

4x Terrain tiles

4x Disorder cards

3x Fighting Art cards

2x Secret Fighting Art cards

3x Armor Set Bonus cards

3x Tactics cards

2x Innovation cards

4x Roles cards

2x Lion Knight card dividers

Price does not include VAT or local taxes for regions outside of the United States. For international customers, please note that we are not responsible for any import duties, handling/processing fees from parcel carriers, or customs charges. Any such fees incurred to receive your package are not covered by us. Please consult your country's customs policy for more information.