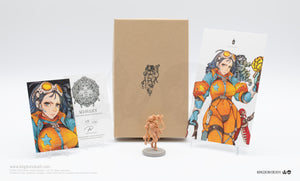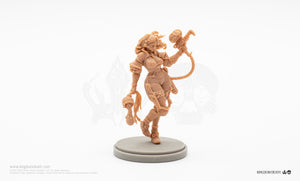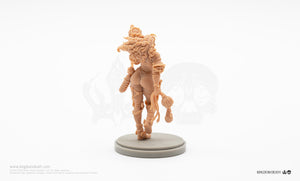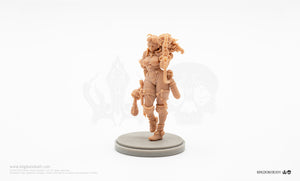 Sci-fi Lucy
Collector's Edition: Limit 1 per customer
Deathgrey Edition: Limit 2 per customer
Encore Edition: Limit 2 per customer

In celebration of an energizing Gen Con, we're offering the Sci-Fi Lucy for a limited time to those who couldn't make the show.
Lucy is a stellar core remnant reclamation specialist. When the sun died, the death energy flooded the stellar system, penetrating the glowing mines rich with lantern ore. Transformed, the lantern ore became a limitless source of ammunition for the Gastraphetes model energy weapons developed by the GGH corp. Lucy scavenges the mines, collecting fragments of ore while fighting off hoards of abandoned miners twisted into nihilistic aberrations by the poisonous light of the dead sun.
Art: Lokman Lam
Sculpture: Team Death

Sci-fi Lucy is packaged in a hand-stamped kraft box, and includes:
1 x Sci-fi Lucy photoresin miniature

1 x Hard plastic Kingdom Death 30mm round insert and base

Large Matte Art Print

Character Art Card

 
First run collector's edition: Signed and numbered authenticity note
Deathgrey edition limited to 250: Deathgrey authenticity note
Price does not include VAT or local taxes for regions outside of the United States. For international customers, please note that we are not responsible for any import duties, handling/processing fees from parcel carriers, or customs charges. Any such fees incurred to receive your package are not covered by us. Please consult your country's customs policy for more information.