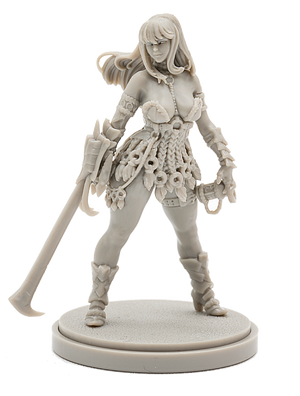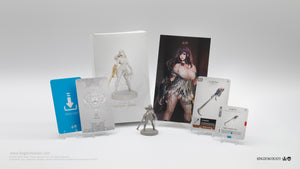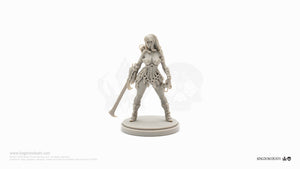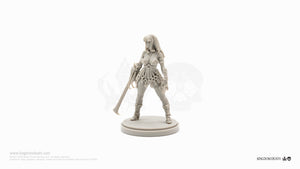 Indomitable Survivor Longclaw Lenore
At the end of the longest hunt, Lenore faced the hoary beast. Distracted by the dancing flame in her eye the monster reached out to pluck the bauble from her skull, exposing its soft belly. It was just enough. 
The indomitable monsters that stalk the darkness unchallenged tend to grow features not normally found in younger specimens of the species. Survivors brave and lucky enough to survive encounters with these monsters gain indomitable resources. These unusual components inspire new configurations of gear worthy of these hard won treasures.
Art: Lokman Lam
Sculpture: Team Death
Longclaw Lenore is packaged in a box that includes:
1 x Hard plastic Longclaw Lenore miniature
1 x Hard plastic Kingdom Death 30mm base and scenic insert

Large matte art print
Indomitable White Lion resource card

Pattern card
Pattern gear card
Install guide
VAT & INTERNATIONAL TAX
Price does not include VAT or local taxes for regions outside of the United States. For international customers, please note that we are not responsible for any import duties, handling/processing fees from parcel carriers, or customs charges. Any such fees incurred to receive your package are not covered by us. Please consult your country's customs policy for more information.