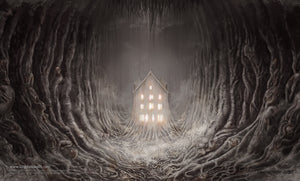 Kingdom Death: Simulator - Illusionist Key
Unlock Kingdom Death: Monster online.

The Dark Keysmith has cut another round of keys. We have increased our server capacity and opened access to more digital players!
Available for a limited time only.

Kingdom Death: Simulator is an opportunity to gather around the gaming table in the dwelling, our ideal setting for a virtual game night. This key will unlock the eerie dwelling and allow you to play Kingdom Death: Monster online by the lanternplace, in the dark, dark woods.

Includes new automations for showdowns and hunts. 

Keep track of your campaign's settlement record sheet with the Stone Cloud. A web-service that communicates with the simulator allowing you to print your settlement record sheet when your group is ready for a physical game night. You can also keep your record sheet up to date online for a return to dwelling and a virtual game session.
This project is actively in development.
Our current focus is on increased stability and features that enhance KD:M playability within it. Future planned features include exploring the dwelling, finding heirlooms used to decorate and upgrade your unique game room, virtual miniature building, miniature painting and more!
When you are ready, KDM expansions await in the Kingdom Death shop. 
This includes (physical components packed in hand stamped kraft box):

Early Access to the Kingdom Death: Simulator

Stonecloud Service -  Your record sheets can be printed from your account as you move from virtual tabletop to tabletop


1 x Digital Kingdom Death: Monster core game




1 x Physical 

Hard plastic

 

Illusionist

 Key.




1 x Physical Art Card.